Rompo Mansion "Live, Work, Stay & Store"
The Lifestyle You Deserve at a Price You Can Afford.
ROMPO MANSION offers Amazing residential rooms and suites, a 3 star boutique hotel, modern furnished offices and huge storage units. Combining these with our fabulous on site facilities, our perfect city center location and our genuine 5 star customer service, makes us more than just another hyped up marketing ploy.

Our unique urban boutique hotel and residence offers the perfect laid-back city center environment, where guests can unwind before leisurely exploring this vibrant metropolis.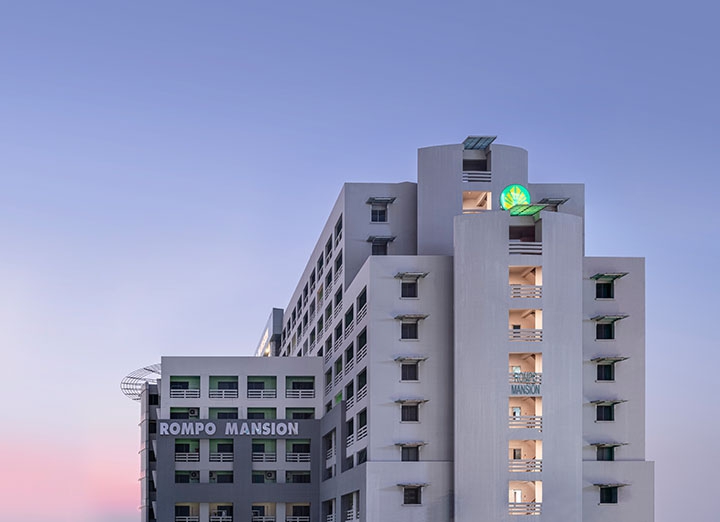 Take Your Business to the Next Level.
Business Center
Rompo Business Center (RBC) is located on the 2nd floor of Rompo Mansion Boutique Hotel and Residence and is regarded as being one of Bangkok's leading office providers. Our amazing occupancy rate is a testament to our ability to monitor the market, to constantly change and evolve and to offer unbeatable rental packages.

Flexibility, Accessibility, Affordability, Convenience, on site Services and Facilities, Working Environment, Genuine Customer Service, Clear and Concise Contracts are some of the key ingredients that can be the difference between success and failure in today's constantly changing business world. Eliminate these worries by moving into a Rompo Business Center (RBC) Fully Furnished Office.

Being able to offer our tenants access to our on site City Center Boutique Hotel, Long stay Residential accommodation and huge Storage Units, is something that makes us unique, and helps us to stand out in this cut throat sector.

Another key ingredient to our success is our amazing city center location.